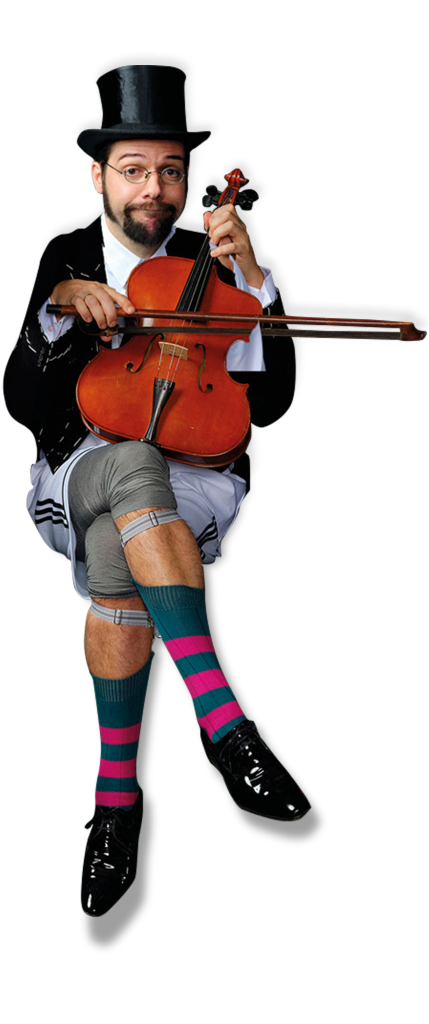 'Mijn vader kreeg voor zijn werk vaak allerlei gesponsorde goodies. Het meeste verdween vaak net zo snel als het binnengekomen was, maar ik heb er 1 VHS band met een comedy compilatie uit gevist.
Dit was een hit op de overblijf op mijn basisschool. We bleven lachen om Mr Bean, Pink Panther, Victor Borge en vele anderen. Dat het hier ging om weergaloze timing en slapstick had ik toen nog niet zo door, maar dat het werkte op de lachspieren wel…'
Jaap couldn't believe his luck as a 7-year-old when, after a year of compulsory musical education lessons, he found a beautiful violin on the couch at home, which he hasn't let go of since. Over time, however, an instrument was added, the guitar of his sister who never played it, a nose flute… and then singing along with it. From an early age he plays in orchestras and discovers that the notes that are there can also be played differently. He has since practiced a lot of 'improvising' and later also composing music himself.
In addition to music, the combination with theater has always been there. For his first major role he had to play deaf and dumb as Tommy, something that came very naturally to him and which he can now apply again in slapstick form.
Jaap also participated in the national PowerPoint championship.
Jaap Rovers graduated cum laude from the Royal Conservatory in The Hague in 2013. Since then he played in many formations. He made music theater at theater festivals such as De Parade and Oerol. He also played with bands such as Half Way Station, Balcony Players, Goslink and Winterdagen at all major pop venues and festivals in the Netherlands.